Foundation Matters – February Edition

Welcome to our First e-Newsletter!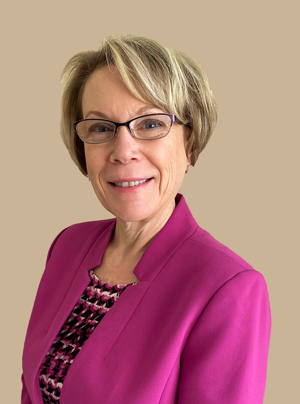 Last year, Regina's Allan Blair and the Saskatoon Cancer Centres had 62,314 cancer clinic visits. That's why we are determined and grateful to help advance cancer care in the province and proud to be the fundraising partner of the Saskatchewan Cancer Agency.
Every dollar you donate to the Cancer Foundation of Saskatchewan stays here at home to support cancer treatments and care, breast, colorectal and cervical screening, cancer research, and prevention.
Through our new quarterly e-Newsletter we will share with you how your donations are making an impact for over 6,000 people that receive a cancer diagnosis each year in Saskatchewan.
We are grateful for your continued support, and hope you enjoy reading about how we are so much Stronger Together. We look forward to hearing from you; email your feedback to info@cancerfoundationsask.ca. Thank you!

Nora Yeates, CEO
Cancer Foundation of Saskatchewan
---
A Look Back At Your Support
As we reflect on the world challenges and our achievements over the past few months,
we thank you!
Here is what you made possible:
When the Saskatchewan Cancer Agency approached the Foundation in need of urgent funds, we responded. The Apheresis Machine in Saskatoon needed to be replaced immediately. This equipment is used to collect stem cells for cancer patients needing stem cell transplants, but frequent breakdowns and costly repairs were putting patients at risk.Have you ever wondered what happens to donations to 'greatest needs'? Well, they go exactly there – to the greatest need of cancer patients' care.
Thanks to your donations to our greatest needs fund, we were able to immediately provide $100,000 for the purchase of a new machine!
Last year there were 11,010 chemotherapy treatments delivered at Regina's Allan Blair Cancer Centre, and 11,900 treatments at the Saskatoon Cancer Centre. If they had 25 chairs at each clinic, that would mean they were used over 450 times each! Imagine the wear and tear. And that is just one year!But thanks to your generosity the Foundation has been able to purchase 35 brand new power chemotherapy recliners. Now patients have tables for their personal items and chairs that they can adjust with the press of a button. When sitting for hours, comfort is key – thank you!

Thanks to you and our friends at Knight Automotive Group, we surpassed the $600,000 goal for critical upgrades and repairs at the Regina Cancer Patient Lodge.
With over $1 Million donated to this initiative, the Patient Lodge has already installed a new elevator! Major renovations throughout 2022 will ensure that the Patient Lodge remains a home-away-from-home for rural cancer patients staying in Regina for treatment at the Allan Blair Cancer Centre.
And so much more (Watch for our next e-Newsletter where we'll update you on the Provincial 4D CT Simulator Campaign!)
Looking ahead to 2022, we are filled with hope. Together we can shape what's possible for cancer patients in Saskatchewan.
---
Our Current Campaign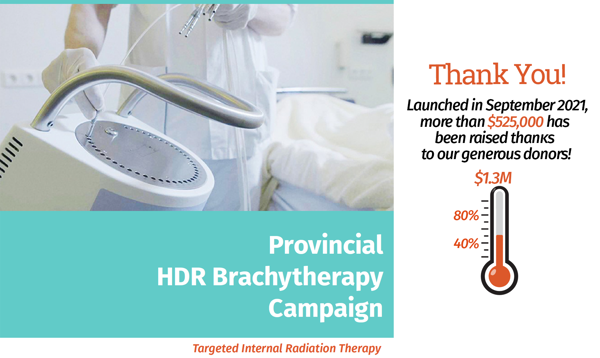 The Foundation's current focus is the replacement of High Dose Rate (HDR) Brachytherapy equipment for both Regina's Allan Blair and the Saskatoon Cancer Centres.
HDR Brachytherapy is the delivery of internal radiation. Tumors can be treated with very high doses of localized radiation – all while avoiding damage to healthy tissue and organs.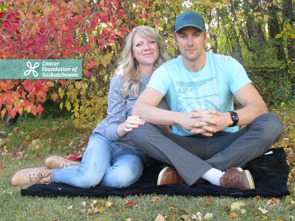 Melina, a 33-year old mother of two young children, learned she had Stage 3 cervical cancer last spring.
After chemotherapy and radiation treatments, she received HDR Brachytherapy to ensure that all of the cancerous cells were gone.
Read Melina's Story
---
With a Little Help From Their Friends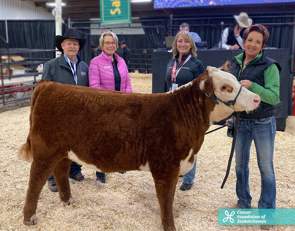 Chris and Tina don't just farm together; they share their cancer journeys together too. 
As a way to give back, the Lees' asked their friends at the Canadian Western Agribition to support two worthy organizations; the Cancer Foundation of Saskatchewan in support of the Allan Blair Cancer Centre and STARS Air Ambulance. On November 25th, their friends came together to raise more than $70,000!
C95 Radio Marathon for Breast Cancer Research – The annual C95 Radio Marathon for Breast Cancer Research raised an incredible $340,342 in 12 hours! The day was filled with inspiring stories from patients and survivors, generous donations, and hope for a future without breast cancer.
Choc'laCure – Due to the ongoing pandemic, Choc'laCure was again unable to hold their annual gala, but this hasn't stopped this dedicated group. Choc'laCure kicked off it's 2nd Annual Virtual Inspired Giving campaign to raise funds for the Saskatoon Cancer Centre Brachytherapy Campaign. So far more than $35,000 has been raised! If you would like to learn more about Choc'laCure, click here.
Paint Saskatchewan Pink – Throughout Breast Cancer Awareness Month, staff and contractors at the BHP Jansen Potash Mine set out to 'Paint Saskatchewan Pink'! This month-long fundraiser raised more than $31,000 in support of breast cancer research!
Richard Exner on the Run – Not many people can say they have run every road in Regina, SK, but Richard Exner can! He committed to donating $1 for every kilometer he ran to the Allan Blair Cancer Centre. Running a total of 1,112kms – plus donations received in his honour – Richard raised more than $4,000!
Tyler Walby Fundraiser – Tyler, a 21-year old survivor of Stage 2 Hodgkin's Lymphoma, raised funds to purchase a new Chemotherapy Chair and Vital Signs Monitor for the Allan Blair Cancer Centre. With the support of family and friends, a total of $12,000 was raised to purchase this new equipment!
THANK YOU to the event organizers and participants who are making a difference!
---
Are you hosting a fundraiser? Want more information on hosting a fundraiser? We'd love to help!
Check out our Fundraising Toolkit and submit an Application today!
Tag us on social media @cancerfdnsask!
---
Established in 2019, the Cancer Foundation of Saskatchewan is the fundraising partner of the Saskatchewan Cancer Agency.
Every dollar raised stays right here in Saskatchewan to enhance cancer treatment and care, screening programs, research and prevention.
---
Sign up and receive our quarterly e-Newsletter right to your inbox!