A Home Away From Home
The Regina Cancer Patient Lodge is a home-away-from-home for cancer patients across southern and central Saskatchewan. Any patient travelling to Regina for treatment at the Allan Blair Cancer Centre can stay here with a companion.
Built in 1985 specifically to support cancer patients' long stays for their treatments, the two-story Lodge has always been a comfortable, safe haven that provides very affordable accommodations.
After 35 years this home is showing it's age and is in great need of your support for repairs and upgrades.
Donate Now
The Lodge is a place of serenity for cancer patients. The staff are caring and comforting and always there to help or to lend an ear.
Last year their 28 beds provided more than 3,700 nights for patients going through treatment and diagnostic testing across the street at the Allan Blair Cancer Centre.
Sherry, the Site Manager for the Regina Cancer Patient Lodge has seen nearly 10,000 guests come through the doors. She wants you to know how important the Lodge is to cancer patients and their families.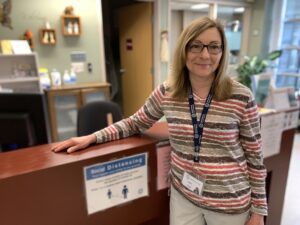 "Staying at the Lodge means the worry of everyday travel to treatment disappears, and allows a patient to rest and recharge with good nutrition and emotional support. Many family members have told me how grateful they are to know their loved one is staying at the Lodge and they do not know how they would have managed without it."
-Sherry Kastelic, Site Manager, Regina Cancer Patient Lodge
Your gift to this campaign will help in these key areas.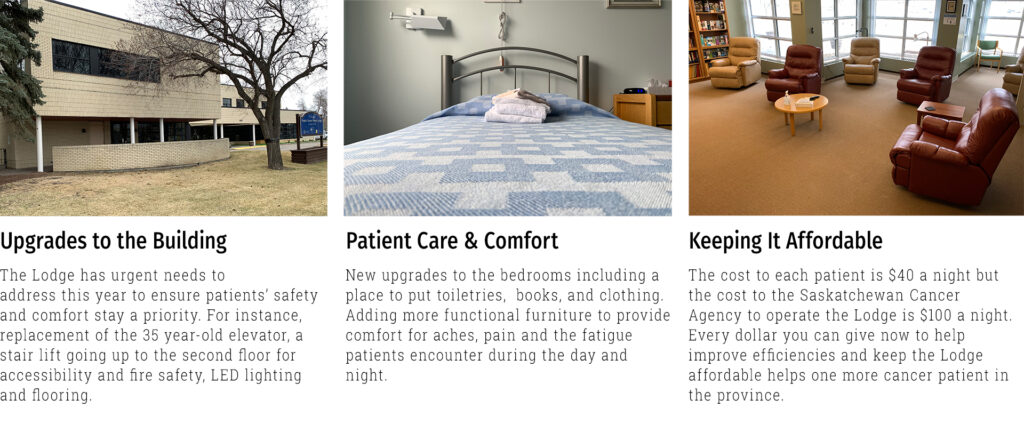 Every dollar you give to the Lodge will help cancer patients get through their treatments. 
Thank you for your generosity.
Donate Now
---