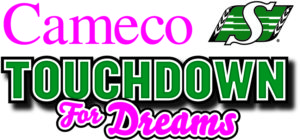 The Cameco Riders Touchdown for Dreams program is a partnership between Cameco, the Saskatchewan Roughriders, the Cancer Foundation of Saskatchewan and the Saskatchewan Cancer Agency.
Launched in 2011, the program fulfills the dreams of women in Saskatchewan living with a life-threatening cancer diagnosis.  The impact the Dreams have had on the lives of women in this province is immeasurable.
Applications are now being accepted for the 2020 Cameco Riders Touchdown for Dreams program.  The application form is available here for download: Application Form 2020
Note: Every application will receive a response by the end of April 2020.
If you wish to support these women through a donation you can do so here.
Donate