Choc'laCure
Online 50/50 Draw - November 13, 2020
Choc'laCure is a year-long fundraising initiative with the money raised supporting equipment used in the treatment of men, women, and children at the Saskatoon Cancer Centre. When the world changed in March, cancer did not. The signature Choc'laCure Gala held each year in November will not take place in 2020. We've had to change as everyone has but we must continue to support this cause. Whether it is someone you've lost, someone you love, or someone yet to be diagnosed, cancer affects virtually everyone. Funds from this year's campaign will support the HDR Brachytherapy Program at the Saskatoon Cancer Centre.
Your support is appreciated as we are excited to launch the Cancer Foundation of Saskatchewan & Choc'laCure 50/50.
Click the button to purchase tickets.
Buy Tickets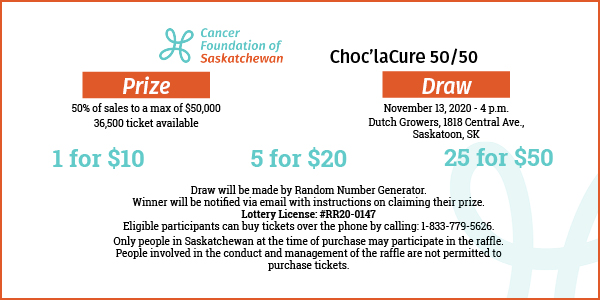 Draw date will be November 13, 2020 at 4 p.m. 
Donate Now
Feature Story